`
Welcome to Firebase 319!
First Firebase 319 Gathering was held in Myrtle Beach.
This website is dedicated to all who served in the 319th Artillery, 173d Airborne Brigade.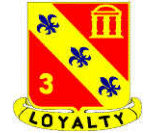 It is a Historical Site trying to preserve the History of the 319th Artillery and the 173d Airborne Brigade which was formed in Okinawa, sent to the Republic of South Vietnam as the first American Army Unit deployed to the War Zone.
Later, during 1967, the Battalion's operations centered around Dak To, Vietnam, where the Battalion received its third Presidential Unit Citation during Operation MacArthur. Later, the same year, the Battalion received the Meritorious Unit Citation. During Operation Junction City in support of the 173rd Airborne Brigade (Separate), C Battery was the first United States Field Artillery unit to fire a 105mm projectile during the Vietnam War.